Date:
Tuesday, January 14, 2020
Time:
7:00 PM - 8:15 PM
Location:
Cecil B. Day Chapel, The Carter Center, Atlanta, Ga.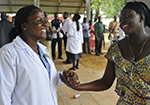 Today, more than 450 million people worldwide live with a mental illness, and depression is the world's leading cause of disability. In countries ravaged by war, disease, or natural disaster, the toll is especially devastating. In the United States, the suicide rate is the highest it's been in more than 50 years. Learn what The Carter Center and The Center for Victims of Torture are doing to address the mental health crisis. This program is presented in partnership with the Georgia Global Health Alliance.

Panelists:
Dr. Shekhar Saxena, Harvard T. H. Chan School of Public Health
Dr. Janice Cooper, The Carter Center
Dr. Paul Orieny, Center for Victims of Torture
James Sale, United for Global Mental Health
Moderator:
Seating is first come, first served.

NOTE: This RSVP form is for attending the event in person in Atlanta. If you are not in the Atlanta area, you can view the webcast of the event on cartercenter.org.